-Tango 5 claimed, "A man in a mask tied me to the steering wheel, covered my head with my jacket, and poured petrol on the car before setting it on fire."
John Cassim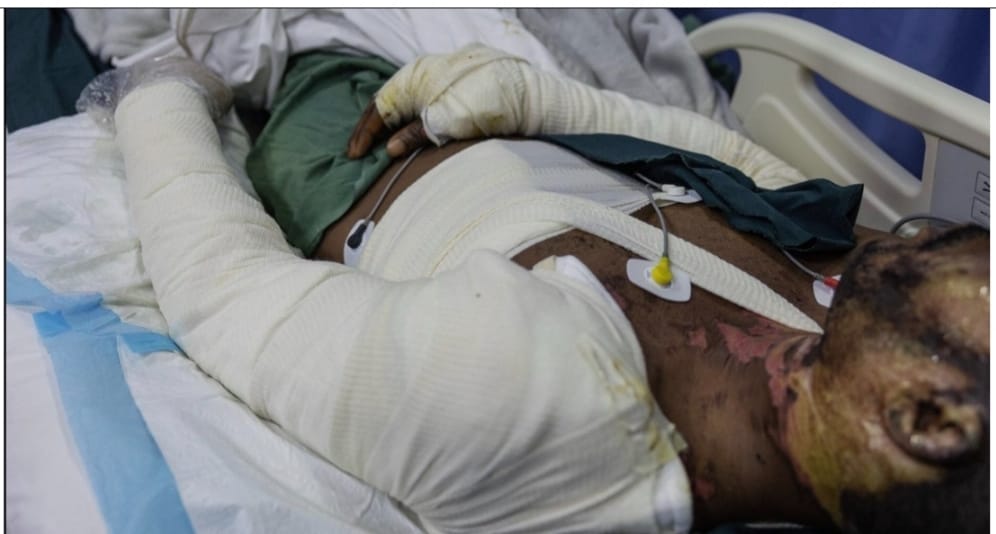 Tango 5, recovering in hospital after sustaining burns to 40% of his body.
Harare, Zimbabwe (CZ) – In punishment for the arrest of their colleagues for rhino poaching, poachers tied a Zimbabwean ranger to the steering wheel with his shoelaces, set fire to the car, and left him to die.
As the entire world observes World Ranger Day, the story of Tango 5 (pseudonym) exemplifies how wildlife rangers all across the world risk their lives to defend nature.
On 10 May 2021, as he was traveling back to Harare after successfully apprehending two rhino poachers, he was intercepted by two unlicensed cars, a Honda Fit, and a Mercedes Benz.
The occupants of the two cars were heavily armed and Tango 5 had no choice but to follow orders.
"A man with a mask tied me to the steering wheel, covered my head with my jacket, and poured petrol onto the car before setting it alight.
As the heat got intense there was a blast that broke all the windows and 'I saw God's hand' directing the fire to the shoe laces, until I freed my right hand," Tango narrated.
"The left hand remained tied to the steering wheel but I used my right hand to lift my body out of the car through the broken window, suddenly I was free and I dropped to the ground.
I started to crawl away from the car towards the Harare-Beitbridge highway and a bus came by a few minutes later, they didn't attend to me and left," Tango added.
By then Tango 5 had sustained serious burns to 40% of his body and was losing it. The agony of hearing faint voices of the Harare-bound passengers urging the driver to abandon him also wrecked his heart.
At that moment he wanted a fast death hence he crawled to the middle of the road to be run over, but he passed out.
A good Samaritan ferried him to Beitbridge Hospital where the service there helped him survive for the night and in the morning, he was airlifted to a private hospital in Harare.
-background of the story
Tango 5 drove to Masvingo from Harare after receiving information that a rhino had been poached in Bubi Valley in Beitbridge.
He and other law enforcement agencies hatched a plan to pretend as buyers of the rhino horn, in a bid to lure the poachers.
"When I arrived in Masvingo, they interrogated me, searched the car to verify if I was a genuine buyer and they believed my story, the two suspects I was dealing with were with other seven people who were heavily armed.
"I proceeded to Beitbridge with the two suspects while I was regularly communicating with my backup team.
When we got to Beitbridge I asked to be shown the rhino and when they did, members of my backup team arrived and apprehended the suspects," Tango 5 explained.
The former Zimbabwe Republic Police and wildlife ranger was then intercepted as he was driving back to Harare, 20 km out of Beitbridge.
-World Ranger Day
World Rangers Day is commemorated each year on July 31, in honour of Game Rangers who are killed or injured in the line of duty while battling to stop the poaching and illegal trafficking of wildlife.
Zimbabwe Parks and Wildlife Management (ZimParks) is responsible for the conservation of wildlife and the welfare of rangers.
Owing to shortages of resources, donors and partners such as the African Wildlife Foundation (AWF), International Fund for Animal Welfare (IFAW), WWF, IAPF and many more have poured in millions of dollars for the wildlife course.
More than 1,000 Rangers were killed on duty in a decade worldwide, according to the International Ranger Federation in 2016.
"IFAW strongly believes that wildlife rangers are the backbone and true heroes of conservation; hence we have, over the years, made it our responsibility to work collaboratively with our partners in all the priority landscapes to ensure that rangers are well-resourced," Alleta Nyahuye – IFAW Country Director for Zimbabwe said.
"As we build up to World Ranger Day 2023, commemorated on 31 July, let us honour all the community wildlife scouts and all rangers in Zimbabwe for their constant sacrifices as they face a lot of danger on duty including armed confrontations from poachers," Olivia Mufute, AWF – Country Director said.