-Already during the first week of the 2023 Fire Restriction period, a total of 412 fire incidences that burnt 34 194.31 ha of veld were reported.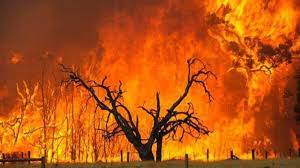 John Cassim
Harare, Zimbabwe (CZ) – Zimbabwe is expected to experience medium to high-risk veld fires, the Environmental Management Agency (EMA) has warned.
EMA's fire risk modelling revealed that the country is in the following categories: Low risk 18.14%, Medium risk (41.25%), High risk (39.56%), and Extreme risk 1.05%, of the total land area of Zimbabwe.
Noting that the country is very susceptible to veld fires this year, a warning has been issued for citizens especially those in the provinces highly exposed to veld fires, to take heed and also follow warnings from the Meteorological Services Department
The veld fire susceptibility increased owing to the 2022/23 rainfall season that has been normal to above normal thus supporting the growth of biomass, which when dry, will act as fuel load resulting in intense veld fires.
Through Notice no 76 of 4 August 2023, the Environment Minister gazetted the 2023 Fire Restriction Period as running from 31 July to 30 November 2023.
The provinces highly exposed to the veld fires in the year 2023 are Mashonaland West, Mashonaland Central, Mashonaland East, and Matabeleland North while districts that fall at extreme risk are Nyanga, Mutasa, Mutare, and Chimanimani.
EMA said related law enforcement government arms will keep an eye on fire behavior and trends in the country during this period, and all those found violating the law will be prosecuted.
Meanwhile, EMA will continue issuing daily fire statistics using the Near Real Time Satellite System (NRTSS) to identify and locate a fire, occurrence time, and speed.
This will help stakeholders to quickly react to fire incidences when they occur and reduce damage to the environment thereof according to EMA.
At the same time the public is urged to follow weather forecasts from the Meteorological Services Department to understand wind patterns for that period as wind speed contributes towards the intensity of veld fires and wind direction informs firefighting strategies to adopt.
Communities are at the same time called upon to report fire offenders to law enforcement agencies and ensure zero tolerance to veld fires in their local areas.
Zimbabwe is yet to come up with a veld fire compensation law although, after a declaration of the Umzingwane fire that killed 10 villagers, as a Disaster, some assistance was given to the affected families.
Owing to climate change, veld fires are on the increase globally, with Africa dubbed the 'continent of fire' because of its widespread annual patterns of burning.