– Climate Smart technologies enhanced agricultural knowledge offer solutions to increase agricultural productivity and incomes – World Bank
John Cassim
Harare, Zimbabwe (CZ) – The World Bank-Zimbabwe has reported that support for Climate Smart Agriculture (CSA) has increased from one farmer to 80,000 across the nation as the continent's enthusiasm for ensuring food security continues to grow
Through collaboration with the Zimbabwe Farmers Union and the Ministry of Agriculture, this was made necessary.
The World Bank claims that increased agricultural knowledge innovation systems and CSA technologies provide solutions to raise agricultural productivity and incomes while also lowering greenhouse gas emissions and boosting climate change resistance.
The remarks by the head of the World Bank were made during a high-level conversation on Climate Smart Agriculture Innovations and Technologies for a Resilient Agri-Food System in Zimbabwe, that was hosted by the Diplomat Business Networking Club on Monday at the start of the Zimbabwe Agricultural Show 2023.
Due to Zimbabwe's high vulnerability to natural disasters and the wider implications of climate change, climate adaptation must be prioritized.
Prior assessments by the Intergovernmental Panel on Climate Change (IPCC) identify Zimbabwe and other Southern African nations as climate change hotspots.
Zimbabwe now has a score of 174 out of 182 on the ND-GAIN Index, which measures a nation's susceptibility to and capacity for climate change adaptation.
However, Zimbabwe has a long history of public and private sector involvement and funding in agricultural research and extension.
The Pfumvudza initiative, which is based on conservation agriculture principles, demonstrates the government's commitment to a strengthened agricultural knowledge innovation system to propel adaptation and mitigation actions in the sector.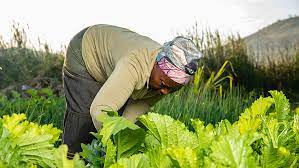 – World Bank financing
The higher yields of farmers under the Pfumvudza program as shown in the Crop and Livestock assessment reports is evidence itself of how such innovation can be a game changer to the agri-food system.
Building on this agricultural knowledge innovation system and extending it beyond agriculture is key to addressing climate action and resilience in the country.
The increased crop and livestock yields of farmers participating in the Pfumvudza initiative are evidence in and of itself of how such innovation can revolutionise the agri-food sector.
To address climate action and resilience in the nation, it is essential to build on this agricultural knowledge innovation system and expand it beyond agriculture.
As a result The Zimbabwe Agriculture Observatory, a climate information platform financed by the Zimbabwe Reconstruction Fund (ZIMREF) and ProGreen Global Trust Fund, was introduced by the World Bank in 2019.
This subscription-based platform delivers real-time, high-resolution agricultural meteorological data, crop-specific agronomic signals, and insights from individual farms to national planning levels.
The bank concentrated on capacity building in its first year, teaching 12 Zimbabweans, including government officials, academics, and farmers.
A Community of Practice (CoP) was formed, connecting these trainers with key players in the agricultural value chain, producing region-specific agriculture bulletins.
In the second year, the CoP expanded to 40 participants, including young and female farmers and extension workers.
Some farmers found successful yields of 30 and 50 tonnes of maize on five hectares owing to agro-weather information from the Ag Observatory.
With support from ProGreen funding, WB extended climate advisory services to 20,000 farmers through collaboration with the Zimbabwe Farmers Union and a further 60 000 farmers under the government yield-based insurance pilot in Mwenezi and Rushinga districts.
– Climate Change Plan
Today, extreme weather events are becoming more frequent and severe, thereby threatening Africa's food system and the livelihoods of nearly 282 million people on the continent.
The frequency of extreme weather events compromising food security has increased dramatically, from occurring every 10 years in the past to now happening every two and a half years.
This rapid acceleration is far too frequent for any farm or farmer to recover from hence increased food insecurity.
Each drought and flood are estimated to lead to a 1.4% annual reduction in food calories and a 5-20% decline in food security.
This places a colossal US$43 billion annual import food bill on the continent.
The Bank is currently scaling up CSA based on its commitment in its Climate Change Action Plan (2021-2025) and the Climate Africa Business Plan to deliver CSA that achieves the triple win of increased productivity, enhanced resilience, and reduced emissions.
In 2021, 52 percent of World Bank financing in agriculture targeted climate adaption and mitigation.
Meanwhile the 2023 Zimbabwe Agricultural Show is running from the August 28 to September 2 and more than 400 exhibitors including foreign companies from Democratic Republic of Congo, European Union, China, South Africa and Malawi have so far conformed their participation.