– The only way decisions to secure room for elephants to roam will be supported, is by involving the local people especially indigenous communities, officials said.
Staff Reporter
Nairobi, Kenya (CZ) — As the Africa Climate Summit entered day two on Tuesday, there were passionate appeals for the African Heads of State and Government to take their pledges for climate financing seriously and for the West to uphold decisions by developing nations, meant to combat climate change.
The summit is taking place in Nairobi, Kenya from 4-6 September this week.
The appeals were echoed at an official side event of the ACS hosted by the International Fund for Animal Welfare (IFAW).
The Ministerial Dialogue, a plenary session that featured Kenya's Tourism and Wildlife Cabinet Secretary Minister Peninah Malonza, Malawi Minister for Natural Resources and Climate Change Dr Michael Usi, Zimbabwe's National Coordinator and Chief Director Climate & Environment, Professor Prosper Matondi of Zimbabwe, and IFAW President and CEO Azzedine Downes, discussed the significance of investing in nature-based and community-led initiatives to counter the global climate crisis.
Kenya's Tourism and Wildlife Cabinet Secretary Minister Peninah Malonza said Kenya is addressing the root causes of climate change by securing land titles for national parks, mapping wildlife dispersal and migration corridors to reclaim encroached spaces, and mitigating the impacts of climate through landscape restoration, water harvesting and storage and ecosystem monitoring. 
IFAW Chief Executive Officer and President Azzedine Downes urged delegates to resist the urge to view Africans as 'victims of climate change', saying they are a critical resource that should be harnessed to address the challenges of climate change.
This can only be done by ensuring that protecting nature and biodiversity is embedded in climate negotiations.
"At IFAW, we are working through our Room to Roam initiative to create climate-resistant landscapes for people and wildlife by seeking connectivity between conservation areas so that elephants have freedom of movement across African countries. Community lands are essential for this connectivity, making them a critical partner in securing space for wildlife," said Downes.
Malawi Minister for Natural Resources and Climate Change Dr Michael Usi described IFAW's Room to Roam as a "prescription to address the conflict between man and wildlife for resources, " which has intensified due to global warming and climate change.
"People must be part of the process to secure room for elephants to roam. This is the only way our decisions will be supported, especially by the indigenous communities who host vast wildlife and biodiversity resources on their lands," said Usi.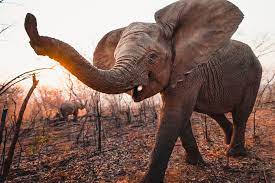 Prof Collins Nzovu, Zambia's Minister for Green Economy, underlined the need to restore degraded landscapes. There is little attention being paid, in the global climate finance discussions despite African role in carbon sequestration.  
In his address during the official opening of the ACS on Monday, Kenya's President, William Ruto, said, "I proudly celebrate the courage and imagination with which the people of Africa and their leaders have converged with extraordinary focus and commitment on the climate agenda. Not as an additional or peripheral concern for public policy, but as the foremost priority and the defining intervention in our collective journey to shared prosperity."
"We have an unprecedented opportunity to abandon the well-trodden yet unsustainable path of the past and forge a new route that aligns economic inclusion and shared prosperity with the climate commitments imperatives," President Ruto said.
"Africa's low rates of greenhouse gas emissions must not relegate us to the margins and footnotes of the global climate agenda; Africa must step forward as the cornerstone for practical climate solutions.
The Summit will culminate in the Nairobi Declaration, a call to action for African governments to build resilience around climate change that will be presented as a unified voice at the oncoming COP28.