-As of now Zimbabwe has recorded one death owing to a wildfire compared to 3 deaths during the same corresponding period last year, an official has revealed.
John Cassim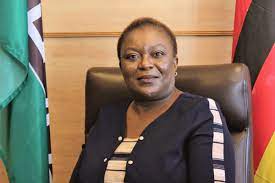 Harare, Zimbabwe (CZ) – Zimbabwe's Environmental Management Agency (EMA) has revealed the country has recorded a significant drop in the number of veld fire incidences compared to last year (2022).
In Zimbabwe, the veld fire season starts end of July and ends in November, a one-month extension compared to the traditional fire restriction calendar in the region.
In 2022, a total of 7 511 fire incidents were recorded during the dry season which destroyed 1 753 055 ha of forest and grassland compared to 3 948 fire incidents recorded in 2021, subsequently destroying 1 033 22 ha.
2022 recorded a 60.92% increase in area burnt compared to 2021.
The veld fire incidences have dropped despite early warnings this year that Zimbabwe was highly likely going to experience medium to high risk veld fire. Susceptibility increased owing to the 2022/23 rainfall season that has been normal to above normal thus supporting the growth of biomass, which when dry, will act as fuel load resulting in intense veld fires.
Amkela Sidange Environmental Education Manager at the Environmental Management Agency (EMA) said veld fire incidents this year have gone down.
"Since the onset of the veld fire restriction period starting on July 31 this year, the country has recorded 2 313 veld fire incidences, which have destroyed over 420 000 ha of land.
If we are to compare it with the same corresponding period last year the country had by then recorded 3 870 incidences that destroyed over 866 000 ha of land," Amkela Sidange said.
As of now, Zimbabwe has recorded one death compared to 3 deaths during the same corresponding period last year.
As law enforcement is tightened, 56 tickets have so far been issued while 20 dockets have been compiled by the Zimbabwean police.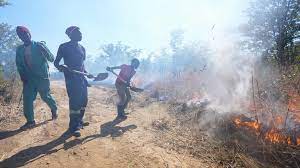 The drop is attributed to the launch of National Fire Week during the second week of May which triggered the implementation of a fire awareness campaign running under the theme, "Prevent veld fires, protect the environment our natural heritage."
Since then EMA working together with key and keen stakeholders, both from the private and public sectors has been raising public awareness and capacity building on veld fire management.
The five most affected provinces in their order in Zimbabwe are Matabeleland North, Mashonaland West, Mashonaland East, Mashonaland Central, and Midlands with Matabeleland North replacing the traditional most affected province of Mashonaland West, this year.
Farmers in the region including those in Zimbabwe start land preparations in July ahead of the rainy season that normally begins in October or November.
As such most farmers resort to the burning of stover or crop remains during the fire restriction resulting in veldfires.
In October last year, 10 lives were lost in Umzingwane District, Matabeleland South where farm workers were trying to put out a veld fire.
The incident prompted the re-evaluation of the National Fire Management Strategy in October 2022.
The Zimbabwean government assisted the bereaved families although the county does not have a policy that compels the state to compensate veld fire victims who would have lost property, livestock, and human life.