-The losses are significant in the absence of value-processing facilities closer to the source
John Cassim
Harare, Zimbabwe (CZ) – The National Food and Seed Festival, which was recently held at the Botanical Gardens in Harare, was a success because of the high level of attendance; hundreds of people of all colours came to shop, learn, have fun, and eat the much sought after, small grain meals.
However, more must still be done to support small grain farmers in their efforts to expand.
Even the government is promoting small grains, commonly referred to as traditional foods, in an effort to enhance national food security, nutrition, and income generation.
The majority of the farmers who participated in the festival's 11th edition, which was organised by Participatory Ecological Land Use Management (PELUM-Zimbabwe), testified that they are not adding value to their produce.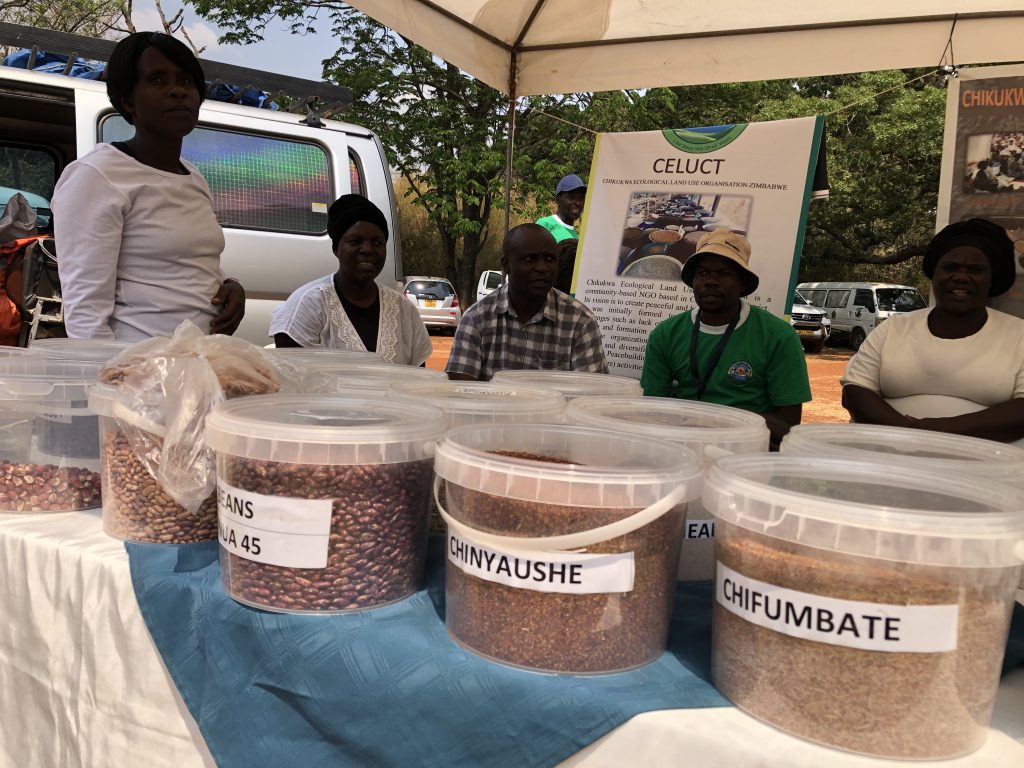 Delend Chikukwa, and his team from Chikukwa Ecological Land Use Community Trust exhibit their small grain produce
Poor roads, the usage of ancient grain processing methods, market restrictions, and a lack of finance are a few of the difficulties faced by small grain growers.
"Our farmers are producing, but their land is inaccessible; in my area, the roads are so terrible that product is rotting at the source; you can only reach using an all-terrain vehicle, or 4×4,"
Delend Chikukwa, executive director of Chikukwa Ecological Land Use Community Trust, said that in the meanwhile, you cannot distribute products with a 4×4 but rather a lorry. "We have pleaded with government that the biggest value addition they can give us in Chikukwa in Chimanimani is a better road," he added.
Chimanimani is a mountainous district in Zimbabwe's Manicaland province. However, because this is a natural agro-ecological area 2 or 3, it is colder and produces more fruits naturally.
Small grain is typically produced in dry regions 4 and 5, but due to the high demand, some areas of Manicaland are now producing small grain as well.
Because marketplaces are difficult to reach and there isn't a manufacturing plant nearby that can add value to the produce, farmers are losing a lot of money as a result of the lousy roads.
Small grains are challenging to grow and labor-intensive to harvest, according to the farmers who spoke to ConserveZim.
The adoption of modern technology can lessen difficulties, however some farmers have complained that the devices are too expensive.
– Technology use
A local organisation that was present at the Botanical Garden announced that they were starting a small-scale mechanisation effort to cut down on the time, drag, grit, and exhaustion involved in producing little grains.
Farmers can choose from two-wheel tractors, seeders, and multi-grain threshers.
The threshers aid in lowering the small grain mealie meal's level of contamination.
"Some of the technology is still being developed but we are trying to bring the most accessible and valuable technology to farmers and make it affordable, a two wheel tractor is going from US$ 700 to US$ 1000.
They are taking it up very well as it reduces the labor cost and the time spent producing the small grain, thereby strengthening the value chain," said Nyaradzayi Chisango a representative from Community Development Organisation.
Farmers claimed that while this would seem inexpensive and accessible, in the absence of flexible conditions, the most recent technology is nevertheless quite expensive in a cash economy like Zimbabwe.
On the one hand, farmers rely on open pollinated seed to keep cultivating year after year, which is why the CBO set up community seed banks.
"We have 24 seed banks of the small grains of seed varieties that have been produced over a very long period of time. We are also doing participatory plant breeding together with experts from the Minister of Lands and Agriculture and researchers to come up with seed varieties that are locally adaptive to the communities," Nyaradzayi added.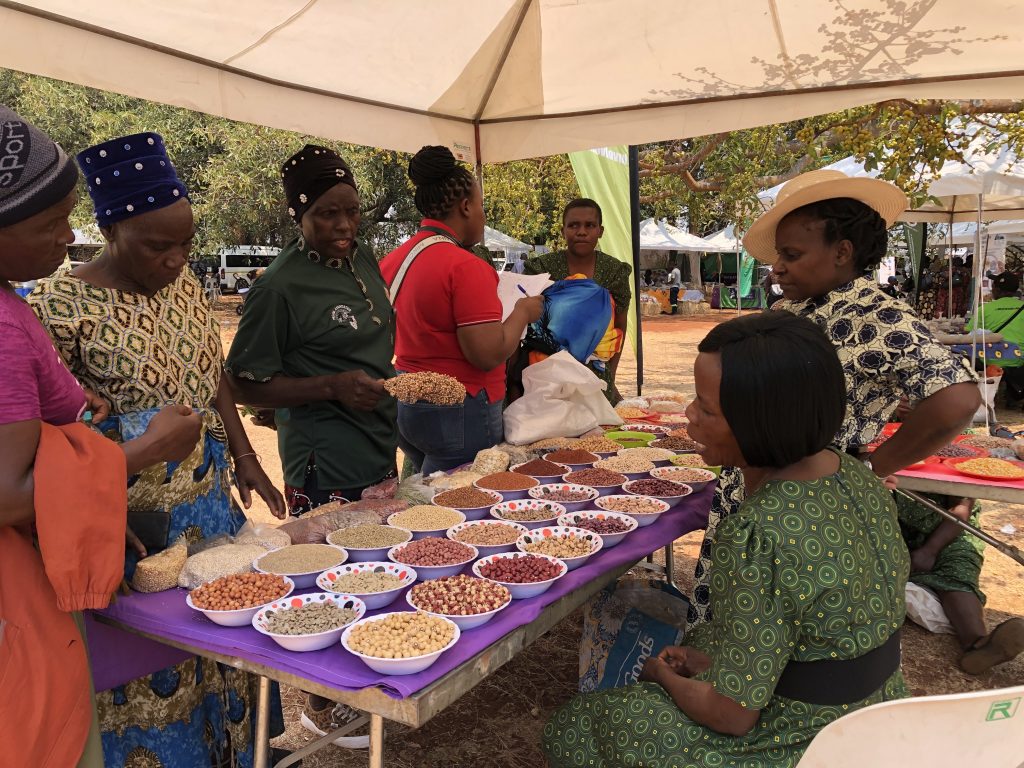 Some of the farmers who participated at the 2023 Food and Seed Festival in Harare
– Identity and culture
According to Gertrude Pswarayi Jabson, the PELUM Zimbabwe country coordinator, farmers grow small grains out of love and as a means of preserving their culture and identity.
"As much as the production of small grains is labor intensive, farmers have acknowledged that millet preserves their identity and culture of Zimbabweans," Gertrude said.
Gertrude acknowledged that it is expensive to grow small grains, but she urged more farmers to do so since they help farmers adapt to climate change.
"The story is two folds one that is of difficulty and the other which is of hope, it depends which part of the story you want to take but for me I take the story of hope, which is the story of millet that gives us hope as a people.
Small grains make us resilient to climate change, they also provide food and nutrition security, we are also working with farmers to impart knowledge of how to add value to their small grains," Gertrude added.