-Roxy revealed that she is just a simple woman, who just wanted to help some animals but it has grown into something bigger than she imagined.
John Cassim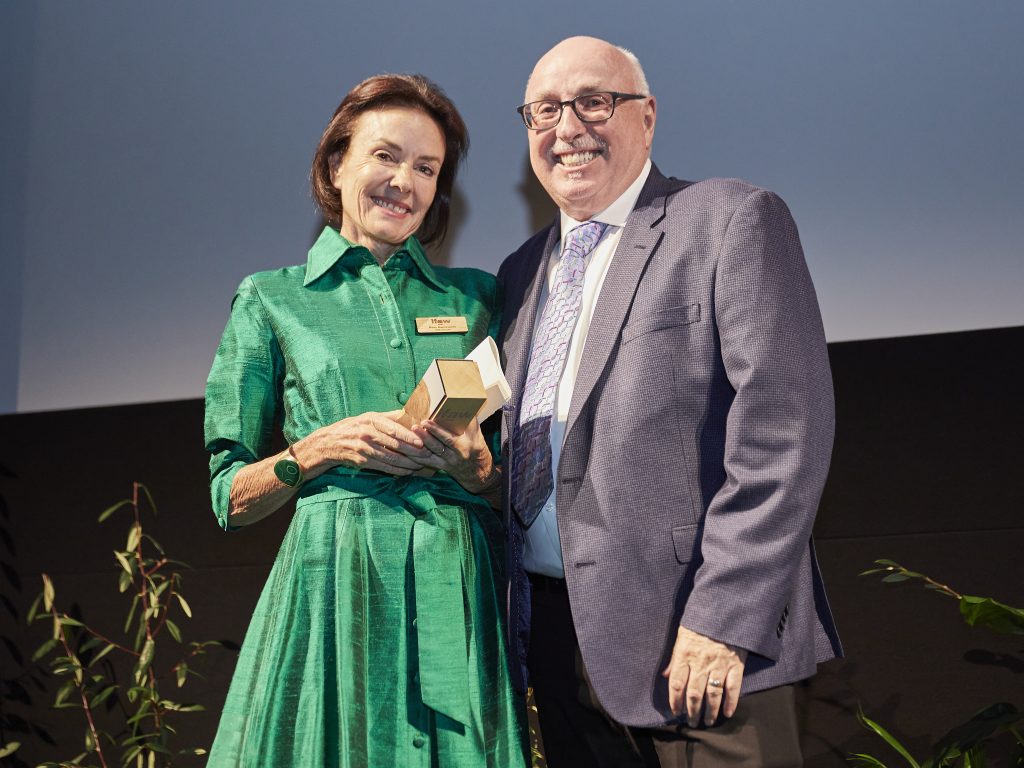 zimbabwean Roxy Danckwerts stands with Azzedine Downes, President and CEO of IFAW after receiving her award
Harare, Zimbabwe (CZ) – Roxy Danckwerts, a 57-year-old, Zimbabwean animal rescuer, has scooped the Lifetime Achievement Award, from the International Fund for Animal Welfare (IFAW) for her outstanding work.
IFAW hosted the 23rd annual Animal Action Awards on Tuesday 17 October, to celebrate individuals and organizations who have made outstanding contributions to conservation, rescue, and animal welfare.
The ceremony was held at the BAFTA headquarters in London, home of the UK's iconic film awards.
Roxy Danckwerts is the founder of Wild Is Life, a sanctuary situated close to the capital Harare, that rescues and rehabilitates orphaned wildlife especially elephants.
In a space of just 10 years, Roxy and her team have successfully rescued over 50 African elephants.
Humble beginning
After spending years rescuing numerous species of wild animals at the family home, Roxy founded WIL in 1998 – a dedicated sanctuary where abandoned, injured, and orphaned animals are given a second chance at life.
Roxy took in her first elephant, in 2016 and never looked back despite challenges associated with elephant rescue.
WIL now employs 120 members of staff, including 25 carers who provide round-the-clock care to rescued elephant calves.
This is at both their dedicated nursery and a separate soft-release site where they can eventually join the wild elephant herds.
Elephants are one of the most difficult species to hand-raise and rehabilitate, largely due to their unique physiology and sentient nature.
They are a keystone species so the value of rehabilitation of elephants impacts all species, across the landscape.
Roxy learned on the job all that she does as she started without formal training.
Growth
Once the elephants have learned the skills needed to survive in the wild, Roxy and her team translocate them to the soft release site, at the Panda Masuie Forest Reserve on Zimbabwe's western border.
This second rehabilitation stage is vital to reintroducing the elephants into the wild, where they can integrate and eventually join established wild herds migrating through the area.
Around 30 elephants are in various stages of reintroduction to the wild from the sanctuary and through collar tracking and camera traps, the whereabouts of many of these elephants have been documented and they are successfully living a wild life.
Although Roxy is primarily rescuing animals, she is also actively trying to change people's mindsets to embrace an understanding approach towards animals – something she refers to as a 'culture of care'.
"We need to tap into the hearts and minds of people, and I think it's working. People are recognising the intrinsic value that our unique wildlife can bring, and we are seeing a culture shift. Park rangers now call us when orphaned or injured elephant calves are found – this wouldn't have happened, say eight years ago", Roxy said.
On winning the award, Roxy said: "I was in shock. Sometimes we can get a sense of imposter syndrome, although to be recognised by a globally respected organisation such as IFAW in this respect, is just astonishing."
"I am just a simple woman, and all I ever wanted was to just help some animals. This has grown into something bigger than I ever imagined. Sometimes things don't go as planned which can lead to heartache, but this has given me the most enormous boost," she added.
Azzedine Downes, President and CEO of IFAW said: "What Roxy has done for elephants and other wild animals, is truly outstanding. She has frequently challenged the status quo and gone against the grain, defying what some said couldn't be done – and done it. Her determination and devotion are inspirational on every level, and I'm delighted to see her receive the prestigious IFAW Lifetime Achievement Award."
Roxy was one of the six people and one animal that was recognised by IFAW for their extraordinary contributions to helping both animals and people.
This year's 'Dog of the Year' was scooped by Davey, a rescue dog who saved lives following Turkey's devastating earthquakes.
Davey is a springer spaniel, who has been serving with the Lancashire Fire and Rescue Service for almost five years alongside his handler and UK ISAR Canine Team Lead, Lindsay Sielski.