– the new complex will greatly increase the visibility of Hwange National Park, improve the visitor experience and enhance security, an official said
John Cassim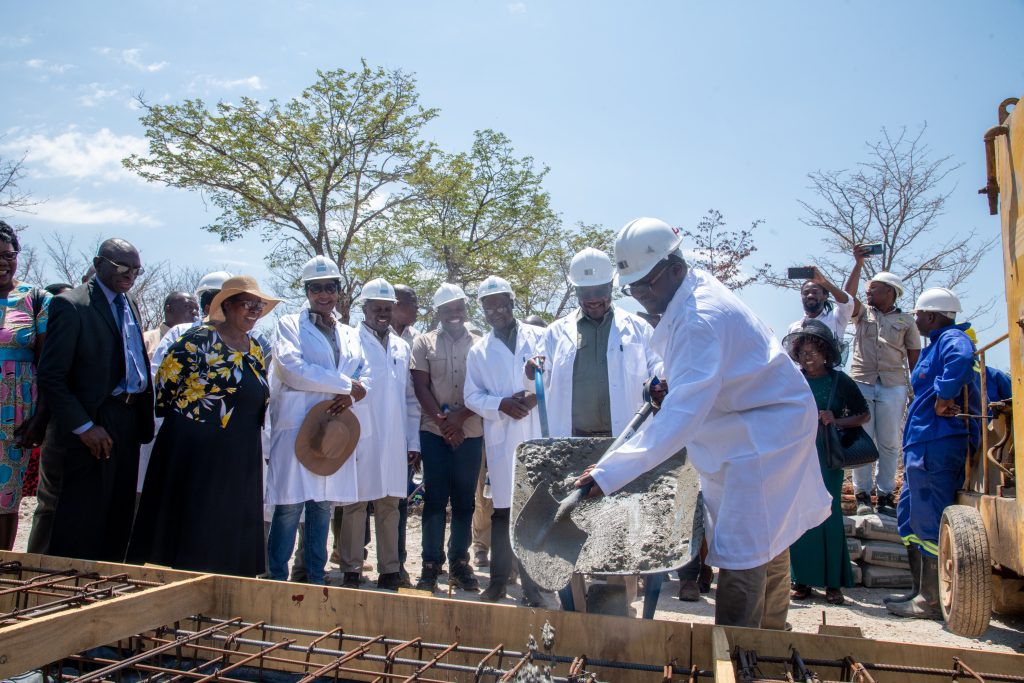 Hwange, Zimbabwe  – Construction of a tourism complex at Hwange National Park, the second largest from Kruger National Park in this region, has begun and is expected to improve security and boost tourism in Zimbabwe.
The construction of the US$1.4 million one-stop access pavilion at Hwange's main entrance gate is expected to restore Zimbabwe's wildlife and tourism to their former status.
While addressing delegates at the ground-breaking ceremony at the Hwange boom gate, Minister of Environment, Climate, and Wildlife, Mangaliso Ndlovu, was upbeat.
"This new complex will greatly increase the visibility of Hwange National Park, improve the visitor experience, enhance security, and help reposition the park as a competitive and must-visit destination," said Ndlovu.
When completed in June 2024, the new complex will serve as a high-security checkpoint with smart-camera technology systems to fortify efforts to prevent the illegal trafficking of wildlife products.
The new complex at Hwange National Park's main entrance point is a mixed-use development, including a visitor centre, tourism offices, a car park, housing for wildlife rangers, and a new gate.
This is the latest activity in the 25-year partnership between Zimbabwe Parks and Wildlife Management (ZimParks) and the International Fund for Animal Welfare (IFAW) to support wildlife conservation in Hwange National Park.
Earlier this year, the partnership between IFAW and ZimParks was extended for 25 years, with an expected investment of US$50 million.
"IFAW's long-term partnership with ZimParks is to transform Hwange National Park into a well-managed and well-protected park that can serve as a haven for wildlife and an economic engine for Zimbabwe," said Alleta Nyahuye, IFAW's Director for Zimbabwe.
"As we forge ahead with this important mission of restoring Hwange NP to its former glory, we are excited about the journey ahead and remain optimistic that our interventions will contribute to the recovery and growth of Zimbabwe's tourism sector."
Hwange National Park is the largest in the country, measuring roughly 14,600 square metres, and is home to more than 45,000 elephants and thousands of other game and biodiversity, yet it does show upon entry into the park.
"Hwange National Park is probably one of the best managed national parks in the global south, but the entrance doesn't reveal that; therefore, it's beneficial to have such an investment," Minister Ndlovu said.
Construction work at the site is being done by Mak Bakano Construction Company, led by Project Manager Engineer Remembrance Guchani.
In line with the ZimParks and IFAW partnership, labour will be drawn from the nearby communities through the local traditional leaders and Hwange Rural Council.
Since 2019, the ZimParks-IFAW conservation partnership has concentrated on improving park infrastructure, uplifting community livelihoods, strengthening law enforcement, and developing tourism.
As part of the tourism development interventions, ZimParks and IFAW have supported the scooping of Nyamandlovu Pan, a critical waterhole for wildlife and a key tourist attraction; an upgraded Mandabvu picnic site; and refurbished guest accommodation lodges at Hwange Main Camp.
Poaching and interventions
In 2015, Hwange National Park experienced one of its worst poaching disasters, which saw more than 300 elephants killed through cyanide poisoning.
Hwange is situated in a dry area and relies heavily on rain and boreholes to provide water to the giant sanctuary.
That was the wake-up call, as various stakeholders joined hands and partnered with ZimParks to reduce poaching.
Owing to these initiatives, Hwange National Park and many more other parks in Zimbabwe have recorded some of the lowest records of poaching in the last seven years, according to ZimParks Director General Fulton Mangwanya.
However, Zimbabwe should not relax while boasting of the positive results posted in the past few years.
The intervention by IFAW is coming at a time when illegal wildlife trade globally has become one of the most pressing threats facing many endangered and threatened species.
The trade is fuelled by an insatiable demand for consumption, status, and traditional medicine, thereby placing the value of the illegal wildlife trade at between US$7 and US$23 billion per year.
This makes wildlife crime one of the world's most lucrative illegal businesses, often run by sophisticated, international, and well-organised criminal networks seeking to exploit the high rewards and low risks of the trade, according to the Global Environment Facility, 2020.
As such, matching state-of-the-art security at national parks such as Hwange is a must.