-Botswana is battling with a growing human population of 2.2 million that is encroaching into protected areas, hence increased human wildlife conflict.
John Cassim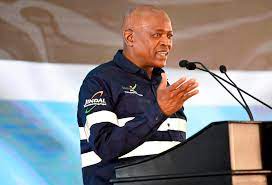 Harare, Zimbabwe – Botswana has launched an elephant express bus in an effort to transport the community and school children in the elephant-rich northwest area.

Botswana's President Mokgweetsi Masisi said his government is committed to protecting the safety of its people, particularly children, who are at risk due to wildlife movement in the area.

He made the remarks during a bus handover ceremony in Seronga village on Sunday.

"The introduction of the buses is a welcome development that ensures the safety of the pupils and improves access to education, which is crucial for the country's development," Masisi said.

The president also congratulated and thanked sponsors of the bus, noting that the government cannot do it alone.
He said this considering that this is the third bus in the area, following two minibusses that have been operating for the past two years.

The private sector is leading the initiative in partnership with the local community and civic society.

Meanwhile, Seronga village is located about 1,232 km northwest of Botswana's capital, Gaborone.

This area is highly populated with wildlife, especially elephants.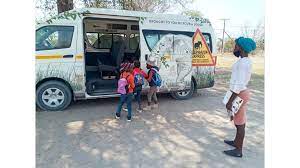 According to the recently launched Kavango Zambezi Transfrontier Conservation Area (KAZA TFCA) elephant survey, Botswana now has about 131,909 elephants, accounting for 58 percent of the conservation area, covering five Southern African countries including Botswana, Namibia, Zambia, Angola, and Zimbabwe.

Despite the fact that wildlife is important to Botswana's economic tourism sector, elephants in the Okavango region represent a threat to both human lives and livelihoods.

Masisi stressed that the government has put policies in place to reduce the human-wildlife conflict issue, including Wildlife Department patrols and barrier fencing to prevent wildlife movement in affected regions, disclosing that Botswana will provide Angola with 8,000 elephants in order to alleviate the pressure on Botswana.

Botswana is battling with a growing human population of 2.2 million that is encroaching into protected areas, in search of farming land, hence more elephants are adversely affecting arable agriculture production.

Human population growth, land conversion, encroachment on wildlife habitats, construction operations near marginal areas, and forest fragmentation are all major drivers of conflict in these areas.
Last year the Vice chairman of Botswana's Chobe Enclave Conservation Trust (CECT) Nchunga Nchunga confirmed that his country pays some compensation for injury and or loss of life as well as for economic losses.
"Human-wildlife conflict is one of the key problems that Botswana is trying very much to address," Nchunga said. "The formation of conservation trusts in wildlife-prone areas is mainly to address human-wildlife conflict."
He, however, could not provide any compensation amounts, saying such figures are usually confidential between the government and those affected.
"If it is damage to crop fields they will measure the area destroyed in order to determine how much one has to be compensated per hectare."
NO COMPENSATION (YET)
Zambia and Zimbabwe are facing similar challenges of human-wildlife conflict with a loud call for compensation.
While is law is yet to be crafted in Zimbabwe Zimbabwean President Emmerson Mnangagwa has already hinted the current parliament will come up with a law aimed at addressing the challenge.