-Climate justice aims to address the challenges of climate change and its consequences comprehensively, an ActionAid official said.
John Cassim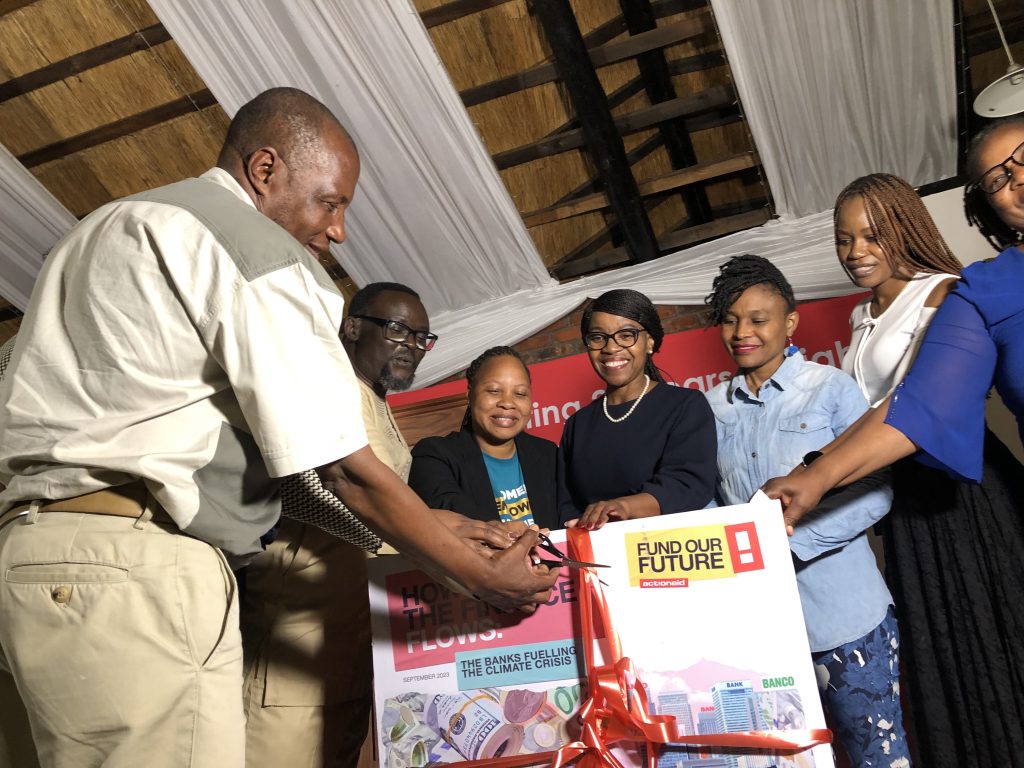 Arthur Larok, Secretary General for ActionAid International, second from left, AWF Country Director Olivia Mufute in fourth position from left during the cutting of the ribbon as ActionAid launched the Climate Justice Campaign in Harare recently
Harare, Zimbabwe – As ActionAid commemorated 20 years of existence on Friday 3, a war against climate change injustice was declared by the current global Secretary General for ActionAid, Arthur Larok.
ActionAid Zimbabwe is part of ActionAid International, a global federation working with more than 41 million people living in more than 71 of the world's poorest countries.
"We want to see a just, fair, and sustainable world in which everybody enjoys the right to a life of dignity and freedom from poverty and oppression. We work to achieve social justice and gender equality and eradicate poverty," Arthur Larok declared.
The climate justice discussion is gaining momentum ahead of the COP28, which is starting on November 28 and ending on December 12, in Dubai.
"The goal of our climate justice campaign is twofold: First, we want to prevent disproportionate harm caused by climate change on vulnerable groups, and Second: we must provide the necessary resources to adapt to its effects," Arthur added.
Meanwhile, the campaign also entails holding corporations such as financial institutions that fund fossil fuel companies and industrial agriculture firms responsible for their role in climate change, urging them to take action, to reduce their emissions.
Demand for climate justice
The demand for climate justice by ActionAid comes after extensive consultations with members and partners agreed to focus on a global campaign on climate justice.
In September this year, a campaign called FundOurFuture was launched, making a call to divert resources from investment in projects that harm our climate and instead channel those resources into just-green-and-feminist alternatives.
To build the evidence base for this campaign, ActionAid undertook to launch the groundbreaking report titled: 'How the Finance Flows, the Banks Fueling the Climate Crisis' during the Africa Climate Week in Nairobi, Kenya.
According to ActionAid, the report cast the spotlight, on the role of fossil fuels and industrial agriculture as the two largest producers and greenhouse gases that drive the climate crisis.
"We found that the industrial agriculture approach to farming aggressively markets agrochemicals that lead to large amounts of greenhouse gas emissions, drive deforestation, and undermine billions of smallholder farmers and their agroecological farming systems that are in harmony with mother nature," Arthur said.
The report revealed that fossil fuel and industrial agriculture are receiving 20 times more financing from banks than governments are receiving, for climate solutions.
Arthur added, "Banks have put US$ 3.2 trillion towards the expansion of fossil fuels since the Paris Agreement meaning that globally money is going in the wrong direction, this needs to stop."
Climate Justice
Climate justice recognises the disproportionate impacts of climate change on low-income communities around the world, and the people and places least responsible for the problem.
Essentially, climate justice means trying to ensure that people and the planet are treated fairly in the ways in which we reduce further climate changes, for example by cutting down the amount of fossil fuels we burn to produce energy.
Climate Justice recognises six pillars for achieving climate justice: Just Transition; Social, Racial, and Environmental Justice; Indigenous Climate Action; Community Resilience and Adaptation; Natural Climate Solutions; and Climate Education and Engagement.