-Land degradation costs up to 6.3% of the country's gross domestic product (GDP) annually, and this will worsen with climate change, the World Bank said.
John Cassim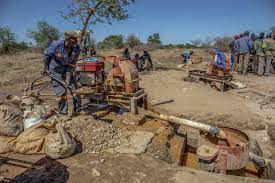 Harare, Zimbabwe – Zimbabwe is highly dependent on land and natural resources for livelihoods and economic growth, but the high levels of land degradation have resulted in the country losing US$ 1.8 billion per year, said the World Bank.
Deforestation, overgrazing, unsustainable agriculture, and mining result in soil erosion, reduced agricultural productivity, loss of biodiversity, contamination of water sources, and disruption of local ecosystems.
Population pressure has increased the harvesting of firewood and worsened pressure on the remaining grazing lands.
Climate change has also contributed to significant reductions in crop yields due to greater heat stress and more erratic rainfall patterns in addition to reducing groundwater recharge and surface runoff in most parts of the country.
Already, land degradation costs up to 6.3% of the country's gross domestic product (GDP) annually, and this will worsen with climate change, the World Bank report titled Valuing Ecosystem Services in Zimbabwe, says.
Assessment and Research
To help address the problems the World Bank is helping Zimbabwe to improve and sustainably manage its ecosystem.
The Technical Assistance has brought together environment experts from the Ministry of Environment, Climate and Wildlife and the Ministry of Lands, Agriculture, Water, Fisheries and Rural Development.
The national screening identified several landscapes for more detailed assessment, including the Mazowe Catchment, which spans 40,000 km2 north of Harare.
Mazowe catchment was estimated to provide a high level of ecosystem services making it a promising prospect for conserving and enhancing services provision.
The report has hinted that productive natural ecosystems in the Mazowe Catchment are being lost and degraded by poorly planned and managed commercial and small-scale livelihood activities.
Activities such as cropland expansion, fuelwood harvesting, and illegal mining associated with poverty, population growth, and lack of secure property rights are the major drivers of land degradation in the area.
Farmers in the area use cropland expansion, as their main strategy to increase food production but this is yielding little benefits owing to poor land management practices that are impacting on water quality and giving birth to sedimentation problems.
Losses and benefits
Within the Mazowe Catchment, cultivated areas contribute a gross margin value of US$ 68 million, per year.
The remaining natural areas support a range of provisioning, regulating, and cultural ecosystem services, providing a benefit of US$429 million per year.
Ecosystem inputs to livestock production are estimated, at US$ 65 million per year. The Catchment has relatively high populations of cattle, due to its large rural population and the socioeconomic importance of cattle, for rural households.
Wild resource harvesting of wood, thatching grass, wild plant foods, mushrooms, and honey is estimated to be worth at least US$106 million, per year.
Rural tourism attractions in the Mazowe Catchment were estimated to generate about US$43 million or 4.6% of national tourism.
Most of this value (US$36 million) is derived from natural ecosystem areas, including the Umfurudzi Safari Area, part of Nyanga National Park, and popular hiking spots such as Domboshava, and underscores the importance of nature-based economic development in Zimbabwe.
Vegetation cover mediates the infiltration of rainfall into the ground and helps to recharge groundwater for domestic, agricultural, and industrial uses.
Vegetation cover also supports water supply by reducing erosion and trapping sediments.
Maintaining natural vegetation cover in the Mazowe catchment saves about US$250 million per year in water supply costs through groundwater recharge (US$84 million) and sediment retention (US$166 million).
The research also noted that Mazowe Catchment has low biomass due to the historical conversion of natural vegetation to agriculture, settlement, mining, and other uses.
Maintaining such vegetation cover helps to retain carbon in the ecosystems avoids its emissions into the atmosphere, and prevents a loss of US$1.23 billion per year.
This technical assistance, was funded through ProGreen, A Global Partnership for Sustainable and Resilient Landscapes, a trust fund administered by the World Bank, with funding from the German and Swedish governments.