-Veterinaries have taken samples for testing to ascertain the cause of death of the 16 buffaloes, a ZimParks official has confirmed.
John Cassim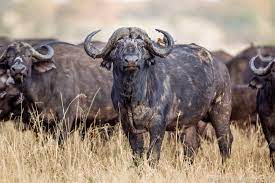 Harare, Zimbabwe – Wildlife officials in Zimbabwe have announced, some investigations are being conducted to establish the cause of the death of 16 buffalos on Tuesday this week, in Matetsi near Hwange National Park.
"Sixteen buffalos have been found dead in Matetsi Hwange, ZimParks (Zimbabwe National Parks and Wildlife Authority) Vet doctors have taken samples for testing to ascertain the cause of death," ZimParks Spokesperson, Tinashe Farawo said on X.
Matetsi is a wildlife sanctuary situated between Hwange National Park and Victoria Falls approximately 700km west of the capital Harare.
Meanwhile, the report of the deaths on Tuesday comes barely a month after revelations that Pasteurella Bisgaard taxon 45 an obscure bacterium not known to kill elephants, may have caused the death of 35 elephants in Zimbabwe and 356 in neighbouring Botswana in September 2020.
At the present moment, sources within the ZimParks Hwange area have informed ConserveZim, it is highly suspected anthrax could be the cause of the death of the 16 buffaloes.
"Yes, anthrax is extremely deadly and can kill in large numbers quickly, only after a postmortem can we effectively verify the cause but we can't exclude anthrax as a common disease in Zimbabwean livestock," a ZimParks official at Hwange National Parks said.
In 2019, Matetsi units 7 and 8 were affected by an anthrax outbreak that left 8 elephants and 3 buffalos dead. Some game also died according to tests results that were made public by the Hwange District Veterinary Department.
However, the journal Nature Communications published findings of the 2020 mysterious death of elephants citing Zimbabwean Dr Chris Foggin, a wildlife veterinarian from the Victoria Falls Wildlife Trust as having confirmed that 13 of the elephants had septicaemia when they died.
Bisgaard taxon 45 was then found in six of the animals and it is a type that has been found previously in swabs taken from tiger or lion bites elsewhere.
In heatwave conditions, similar bacteria have leaped the bloodstream of antelope, causing mass deaths.
As the planet heats and hot, dry conditions become more common, scientists are concerned this could happen in other species and are calling for more testing to establish the scale of the threat.
Scientists said the bacteria was not entirely strange but was not known to be able to kill elephants, especially on the African continent, but owing to climate change the elephants were under "severe stress" because of the ongoing drought and difficulty finding food.
It was explained that there are lots of pathogens that [usually] do not cause disease – and certainly not death but if an elephant's defense breaks down, that allows the bacteria to spread, and in the end, it doesn't just cause a local infection after a bite – but causes severe disease and death.
Meanwhile ConserveZim is investigating the mysterious alleged death of 30 young elephants last week, at Sinamatela camp in Hwange National Park. ZimParks are yet to shed light on the causes and extent of their investigations.