-When we talk of livestock production decline it means farmers and consumers will suffer, and health care costs will increase, we may not see it now but it's coming, a WHO expert said.
John Cassim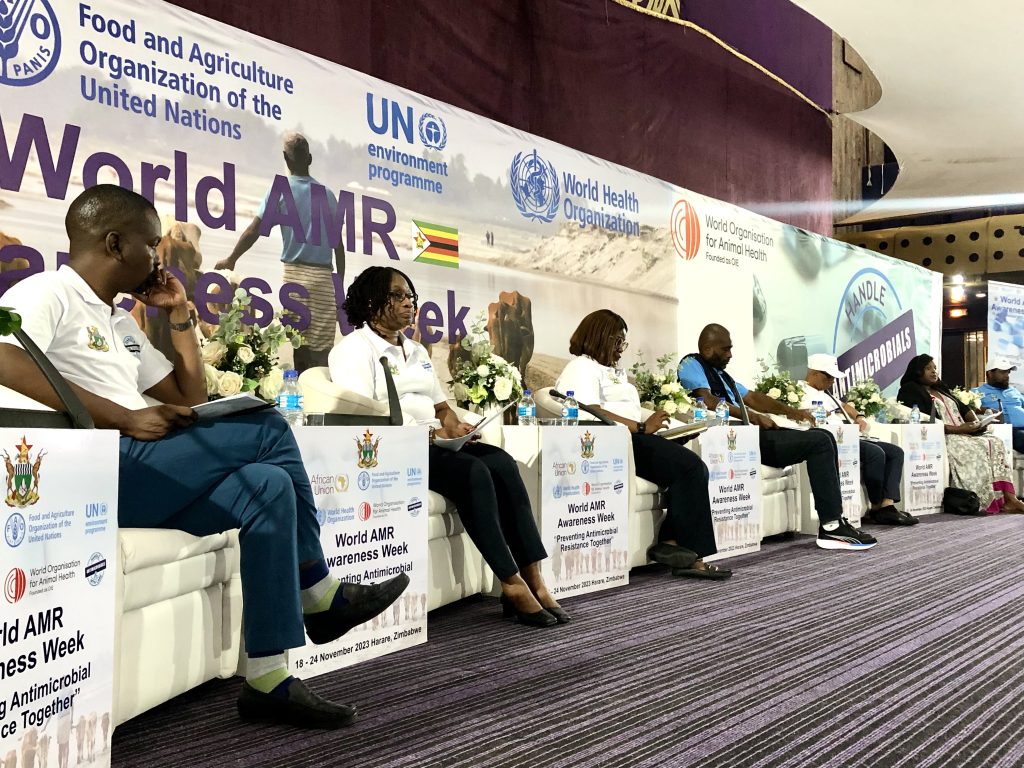 A panel of health experts during the Media Briefing that marked the beginning of the WAAW commemorations on Saturday in Harare.
Harare, Zimbabwe – Amid worries that antimicrobial resistance is spreading and killing thousands of people globally, World Antimicrobial Resistance Week (WAAW) celebrations have kicked off in Harare, the capital of Zimbabwe.
WAAW, will run from November 18 to 24, under the theme, "preventing antimicrobial resistance together."
When microorganisms, such as bacteria, fungi, viruses, and parasites, are exposed to antimicrobial medication, such as antibiotics, anti-fungals, and antivirals—they might change, leading to the development of antimicrobial resistance.
As a result, infections in people, animals, and wildlife are more difficult to treat, and there is a greater chance of disease transmission, serious sickness, and death.
Have you ever checked your animal, such as a goat or chicken, for antimicrobial medicine residue before killing it?
Dr. Tarusenga Munyanyi, a poultry health specialist, asked during a news conference on Saturday, "How many times have you consumed fruits or vegetables without knowing their source and if they were sprayed on the eve of harvesting, this is the biggest source of drug resistance in humans."
He continued by saying that research on the health of wildlife and livestock is being done at the University of Pretoria, and the results thus far indicate that consuming raw foods like biltong or other animal food products is dangerous, if not cooked or semi-cooked.
Synthetic pesticides that contaminate the soil and kill wildlife and livestock are another source of antimicrobial resistance.
"We need to investigate what we are using as pesticides that we import because most bugs are mutating due to soil pollution, picking up molecules of those chemicals then they become resistant and they come into the food chain," Dr. Munyanyi stated.
Health professionals and consumers have contributed to the natural occurrence of antimicrobial resistance by abusing antibiotics, which is the primary cause of antimicrobial resistance (AMR).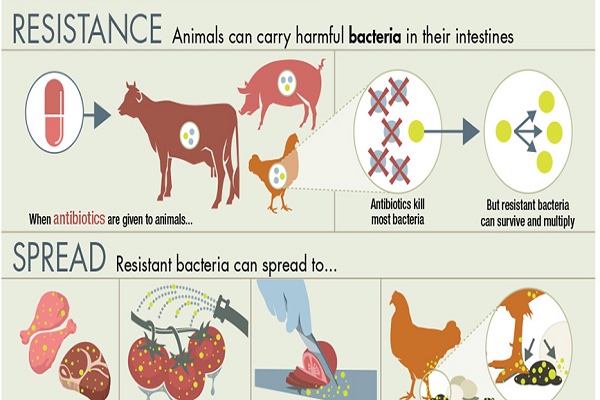 Setbacks and the increase in poverty
Then-UK Prime Minister David Cameron ordered a study in 2014, and the results showed that AMR was killing 700,000 people annually.
By 2050, that number will rise to 10 million annually at an economic cost of US$100 trillion if nothing is done.
AMR's current influence on the global economy ranges from 1% to 3,8%, but by 2050, it's predicted to reach 5%, primarily in Africa.
By 2050, some 28,3 million people—6,2 million of whom originate from low-income nations—will live in poverty.
According to the World Bank, AMR will have a $1 trillion impact on trade while having a $300 billion impact on human health.
By 2050, it's predicted that the production of livestock will have decreased by 2,6% to 7,5%.
"These are not just numbers; there are farmers and people behind them. If livestock production declines, it will negatively impact both farmers and consumers.
"We may not see it now, but it is coming," WAAW Secretariat member and WHO Expert Dr. Fuller hinted. "When we talk about increased health care costs, it means that you and I may have to bear a direct increase in the cost of accessing essential health services."
Dr. Fuller continued, "A study conducted in 2022 by the Graham Project in the UK found that bacterial infections alone were the cause of 5 million deaths or 13 deaths per 100,000 due to antimicrobial resistance for high-income countries and this could double for this region."
A one-health approach
Several resolutions have been passed by the UN General Assembly, the G7, and the G20, but the 1998 World Health General Assembly resolution was the first to identify AMRs and requested member states to start taking action.
The Global Action Plan, which serves as the foundation for member states' creation of National Action Plans, was adopted by the World Health General Assembly in 2015 through resolution 68/7.
To combine crop management, human health, and animal health under one roof, this resolution also advocates for the one health approach.
"Since AMR knows no boundaries, the quadripartite (AU-CDC, FAO, WHO, UNEP, World Organisation for Animal Health) cannot address it on its own. Instead, we must work together to develop synergies through a multidisciplinary approach to ensure that our combined impact is as effective as possible to mitigate the threat that AMR poses,", Dr Walter Fuller said.
Meanwhile, the One Health Unit Lead at the Africa Centre for Disease Control (CDC), Dr Yewande Alimi, said access to vaccines for Africans will reduce the burden of AMR.
"The production of vaccines on the continent means the average African will have access to vaccines, which are critical to reduce infection and also reduce the use of antimicrobials," she said during the media briefing that marked the start of the WAAW in Harare.
Not much was said regarding soil pollution and wildlife health despite reports of wildlife dying owing to infections, especially in Botswana and Zimbabwe.