-Cabinet has put in place robust measures encompassing irrigation and agricultural climate-proofing to maintain increased production.
John Cassim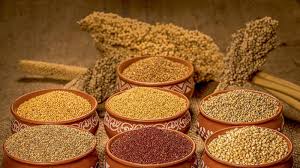 Harare, Zimbabwe (CZ) – The Zimbabwean government has announced that the availability of traditional grain seed will be increased through packaging by ARDA and GMB, in the 2023/2024 season.
This is in line with the agricultural climate-proofing stance the Southern African nation has taken, aimed at achieving national food, feed, and edible oils self-sufficiency.
The move has been necessitated through financial support from the African Development Bank.
Agricultural and Rural Development Authority (ARDA) and the Grain Marketing Board (GMB) are agricultural parastatals.
To incentivise the production of traditional grains, the Zimbabwean government has promised to announce planning prices and marketing modalities in August each year.
Selected farmers in 460 irrigation schemes will also be supported by timorously availing Presidential Inputs to them.
This is one of the measures among an assortment contained in the 2023/24 Summer Cropping Plan and State of Preparedness, approved by Cabinet on May 18, 2023.
Through this and other plans, the national target hectarage for strategic crops has been set at 3 040 000 ha with an expected yield of 3 782 658 metric tonnes (MT).
According to the government, plans have been put in place to align crops grown with agroecological regions and swap grain through GMB to promote traditional grain production in regions 4 and 5.
Region 4 is located in the low-lying areas in the north and south of the country and is characterised by an annual rainfall of 450-650 mm, severe dry spells during the rainy season, and frequent seasonal droughts.
Rainfall in Region 5 is very erratic and usually less than 650 mm per year. Some parts of Region 5 like along the Zambezi River receive reasonable rainfall but owing to uneven topography and poor soils make it unsuitable for crop production.